Oxford University Press
Read to Learn  


The Explore with Biff, Chip and Kipper series:  fiction and non-fiction paired books, Stage 1-9.  

If you think you know Oxford Reading Tree, you will find out even more from this brand new series, by the same author and illustrator of our Classic Oxford Reading Tree series !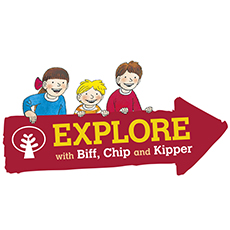 Topic-matching to your curriculum guide
Read the Blog posts by the author and illustrator about this series

Topic-linked pairs of engaging stories and compelling non-fiction books at Oxford Levels 1 to 9 featuring our favourite Biff, Chip and Kipper friends 
Provide a language-rich, creative, STEM-ready learning context for all ages.

Get free school and home resources from Oxford Owl 
https://www.oxfordowl.co.uk/
---
Learn to Read,


Write and Speak with Oxford Reading Tree! 

The following videos recorded live lessons with children in bilingual schools where they teach English for less than 3 hours a week.   Teachers here will show you how Oxford Reading Tree can be used to teach children to read, write and speak English:   


6-minute demo lesson
Children learning English aged 4-5
in a reception class in a bilingual school

Featuring:   Fun at the Beach, Stage 1 First Words




7-minute demo lesson 
Children learning English aged 6-7
in a year 2 class in a bilingual school

Featuring:   The Dream, Stage 2 Stories


---
Read with Phonics


Phonics for parents


10-minute tutorial: How to support phonics learning at home?
Understand learning to read using phonics and how to put reading with phonics into practice at home with Emily Guille-Marrett and her son Albie.
Oxford University Press